Interested in learning more about Trailhead for Students and how you can access the resources needed to create successful career paths for your students? Fill out our form to the right. This program is designed for educators and administrators at universities, colleges, and nonprofits.
The course teaches students the following:
Business value of each Salesforce application

Basics of the security and data access model

Fundamentals of user management

Phases of a Salesforce implementation

Business process automation

Reporting requirements and considerations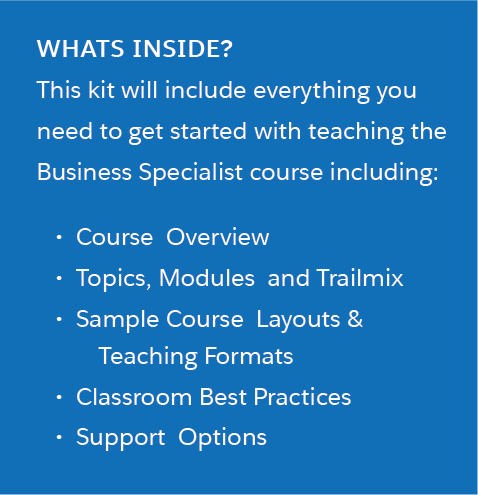 This course is designed as a great primer for Salesforce skills and makes a pathway for any of the other tracks: whether that's becoming a marketer or an admin, developer or sales manager. This course requires no previous knowledge or experience of Salesforce. This makes the course great for students early in their business, technology, or creative major. Basically, it's the foundation students need to pursue any career in the Salesforce ecosystem!

This course guide is designed to help you fit the course into your classroom and includes all the course overview and best practices you need. Download our free guide and get started teaching Salesforce today!

Fill in the fields below to get your FREE Business Specialist Course Guide.